DJ Bob Lea began his radio career with Craigavon Hospital Radio in the 80's, during this period he worked on Radio Carousel in Boyneside Radio and Big M.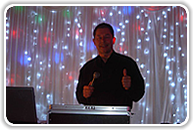 During June 1990 he joined Northern Sound in County Monaghan presenting the Drive Time Show for three years.
Having decided to go back to college in 1993 he temporarily put his radio career on hold. Enrolling on the media course at Upper Bann Institute where in 1995 he was awarded a BTEC Certificate in Media Studies.
His next step was to take him to Queens University of Belfast where he enrolled as a student in 1995. After three years of study in July 1998 he graduated with a BA 2.2 Honours Degree in Integrated Irish Studies from Queens.
During his five years studying Bob had not completely turned his back on the music industry as he continued to Gig occasionally.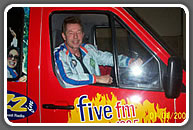 In 1996 he joined the newly launched Townland Radio in Cookstown - working there on a part time basis. However, he still hankered after a full time job on air.
This opportunity came when he joined Q102. This latest move meant a change of direction in Bob's radio career - he was now assigned to writing and reading the news bulletins on the station each hour.
When Q102 launched its sister station Q97.2 in Coleraine on 1st January 2000 he joined as News Editor and also presenting the Saturday Sports Show.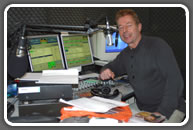 Bob remained on Q97.2 until 2005 when he left to join Citybeat in Belfast where he remained until December 2006 when he moved to Five FM on it's launch where he remained until April 2008.
DJ Bob Lea also played every Saturday Night upstairs at the Coach Nightclub in Banbridge until closure in late 2013. Since then DJ Bob Lea has been entertaining Wedding Guests and Party goers at various venues throughout Ireland.
What's your favourite radio show besides your own?
Steve Wright
What do you listen to on your iPod/CD player when you're not working?
Snow Patrol, Killers, Eagles, Thin Lizzy, U2 and Hannah Montana
Who is the most famous person you have ever met?
Bertie Ahern
What actor or actress do you admire the most and why?
Robert de Niro because he becomes the character he portrays and is the consumate professional
What's your favourite movie?
Once Upon A Time In America
Dream Date?
Annette Benning
Do you have a pet and if so what's its name?
My music career
What was the name of your first cuddly toy?
Preferred a football
What do you get up to when you hang up your headphones after work?
The gym, soccer, and the cinema
What's your most embarrassing moment or moments?
Can't recall anything that still make's me blush
What's your favourite food and drink?
Sirloin steak, roast potatoes and veg complimented by a bottle of Nuit St.George
What's your favourite holiday destination?
Maspalomas, Gran Canaria
Do you have any bad habits?
I'm a perfectionist and too self critical. I don't suffer fools lightly.
DJ Bob Lea brings a professional radio style presentation to your Wedding, Private Party, Corporate Event or Nightclub.
Offering a mix of todays freshest music plus decades of great music with Rock n Roll from the 50s and the best sounds from the 60s, 70s, 80s and 90s plus all your favoruite requests! We can also cater for special theme nights and we can also work with you to compile a specialist playlist for your party or event.

DJ Bob Lea is now receiving bookings for Weddings and Private Parties up to 3 years in advance. What are you waiting for? Contact DJ Bob Lea today on 028 4062 6785 or 07847 537983 or email info@boblea.co.uk
To avoid disappointment Book DJ Bob Lea for your Wedding, Private Party, Corporate Event or Nightclub today!